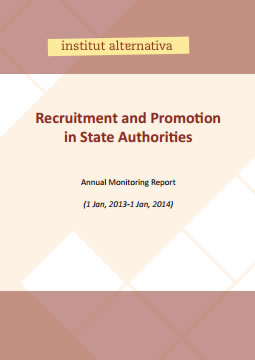 In 2013, at least 476 persons were recruited for job positions in state administration bodies, in line with the new Law on Civil Servants and State Employees and procedures which entail obligation of oral and written testing. More than half of these vacancies were filled by internal announcements. In most of the cases, ranking lists for selection of the job candidates were composed only from one candidate.
Human Resources Management Authority, the most relevant authority for the implementation of vacancy announcements, regularly published the qualification assessment results and thus facilitated monitoring of application of the new rules. However, authorities lacked readiness for the implementation of the new Law. Until January 1, 2014, data for only one third of civil servants and state employees, falling under the scope of this Law, were submitted to the Central Human Resources Register.
Legal status of fixed term employees in state administration was not adequately resolved before the Law started implementing. Job security of these employees is thus severely endangered. In 2013, Ministry of Interior had 500 fixed-term employees although the Law allows this kind of employment only in exceptional circumstances. More than third of these employees will lose their jobs, because they fail to meet eligibility criteria for positions they currently occupy.
At least two state administration authorities, Education Bureau and Agency for Environmental Protection, concluded employee transfer agreements with the agency for employment mediation. They have thus circumvented obligatory testing procedures and breached the Law.
Five people appealed against recruitment procedures in state administration authorities over the previous year. The three appeals against the Ministry of Interior, Ministry of Finance and Agency for Environmental Protection were upheld. Decisions on upholding these appeals suggest the inconsistencies in ensuring funds for filling of vacancies and disrespect of eligibility criteria for a job position. The rejected appeals namely tackled the qualification assessment of the candidates but they also pinpointed the confusion caused by the re-organisation of Montenegrin state administration.
Based on the analysis of the majority of recruitment, it is impossible to determine whether the candidate with the highest ranking has been selected. Performance appraisal in state administration authorities is also inadequate as demonstrated by Administration for prevention of money laundering and financing of terrorism, whose all employees, without exemption, were given an excellent grade.
With an aim of ensuring the consistent implementation of the Law, it is thus necessary to implement measures against abuse and circumvention of the new rules. Institutional capacities should be improved, as well as the procedures for selecting the candidates.
Comments are closed.